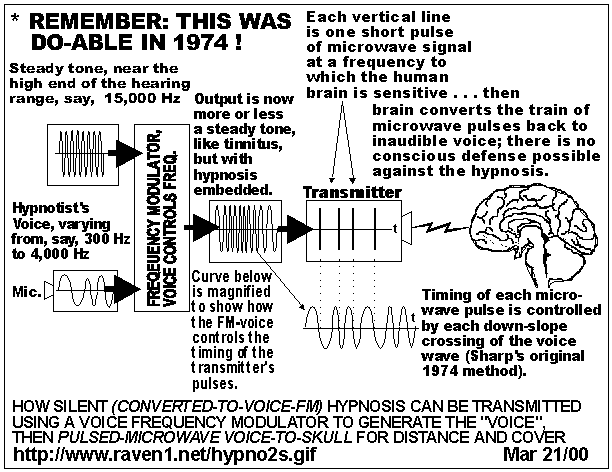 How deep does MK Ultra/Monarch/Tavi go down the rabbit hole?
I have seen this touched upon in other threads, but never an actual topic composed discussing the role of the CIA, Country Music and the MK Ultra program. Not much on the Clinton Sex Slave either. Do you have any other info you can
share
? I am looking specifically for information on Country Music artists and LSD/Cocaine smuggling/propagation. Much of it is very limited, of
course
.
This is a copy of an email that was FWD and posted on sites in the late 90s from the International Advocates for Health
Freedom
. I had this saved somewhere and thought it was an overall intense read, I don't think many are familiar with this:
Return-Path: jham@iahf.com
Errors-To: <jham@iahf.com>
X-Sender: jham@pop3.concentric.net
Date: Fri, 30 Oct 1998 20:05:51 -0500
From: John Hammell <jham@iahf.com>
Subject: Double Cross to Hell: The CIA's MK Ultra Mind Control
I think a lot of members of Congress and politicians all over the world are soul less robotoids. I think Hillary Clinton is one too. She and Bill are both bisexual. She fucked Cathy O'Brien, author of the book "Trans-Formation of America" which is about her experiences as a mind controlled sex slave/information courier/drug courier for the CIA and how she was victimized by the MK Ultra Mind Control Program.
I met O'Brien in DC at the Rally for
the Bill of Rights
a couple years ago and got an autographed copy of her book. She was a sex slave of the CIA, sold by her pedophile father into the MK Ultra Mind Control program at age 4. Her father was snagged by the FBI for selling child pornograpy through the US mail, and the CIA found out about it and offered him immunity from prosecution if he would merely sell his children into the MK Ultra mind control program, which the bastard did.
The CIA had discovered that incest survivors made the best mind control subjects, and they needed such people to serve as sex slaves, drug runners and information couriers for such purposes as doing the ground work to get NAFTA and GATT through. Ever wonder what went on behind the scenes to foist those programs off on us? If anyone thinks I'm joking, Congressional Hearings have been held which
document
everything I'm saying about the MK Ultra Mind Control Program- fire up a search engine and you'll find I'm not making this stuff up.
Cathy O'Brien was prostituted by the CIA to the President of Mexico as part of the effort to con him into accepting NAFTA. The CIA also used her for smuggling cocaine. One of the people who she interfaced with while serving as a "mule" for the CIA was Jimmy Buffett, the country music legend who lives down in Key West, here in Florida. Buffett was a CIA asset involved in coke smuggling.
Cathy O Brien was subjected to satanic ritual abuse by a Jesuit priest who was part of the CIA's MK Ultra Mind Control Program. The Vatican is controlled by a CIA connected group called P2. The CIA discovered that by constantly inducing trauma through horrific events such as satanic rituals, they could keep causing the compartmentalization of the brain necessary to make Cathy and the other victims best suited for being used as human tape recorders.
The trauma induced by incest/satanic abuse is dealt with by the victim by blocking out the event from their memory, and in the process- the compartments in the brain were created which the CIA exploited via the use of designer drugs, psychosurgery- implanted microchips, and really devious
psychological programming.
O'Brien's vagina was horribly mutilated by the CIA which carved a grotesque witches face into the folds of her labia. That really turned Hillary Clinton on when she performed oral sex on her. Ronald Reagan also availed himself of Cathy O'Brien, accessing one of her programmed persona's that he especially liked known as "kitten." Many members of Congress have also had sex with CIA sex slaves. O Brien states in her book that the one time she met the Clinton's, while she was having sex with Hillary, Bill casually sat in a chair reading a book, as if this were a typical occurrence.
People sometimes think I'm bullshitting them when I tell them about the MK Ultra Mind Control program, but as crazy as this stuff sounds, its all true. People have no idea of the depth of evil in the world. People are blind to what is going on all around them. People have no idea of the stuff the CIA does in their effort to force us into a world government.
The CIA isn't part of our government, it is controlled by the Royal Institute of International Affairs and MI6 in the UK, which does the bidding of the Bilderbergers.
It is a testimony to Cathy O'Brien's strength as a human being that she escaped the MK Ultra Program, and she has immense courage to come forward with her book. Her husband Mark was on the periphery of the MK Ultra Program, and through a serrendipitous chain of events, he learned the truth about what he was REALLY involved with, he learned of Cathy's plight, and risked his life to helped her escape to Alaska, where he was able to deprogram her with assistance from people inside the CIA who sympathized with O'Brien, and leaked him the info necessary to deprogram her.
I realize this all sounds like a bunch of hokey garbage, like something from that movie "The Manchurian Candidate" but this is all true.
Cathy describes how the programming done and how her perception was manipulated. So, does Sue (and the methods are somewhat different... different doctors). Cisco also explains it, from both sides.
When Cathy encountered the Clintons, they were in Arkansas. So, this was during the period of drug running into that state. If you read what she actually says, this encounter is not that outlandish considering it was part of an up and running operation. She and her husband were brought in a few times for specific duties. This was her first husband. He was also her handler. There is verification for this operation from sources beside Cathy.
Paul, interestingly, witnessed someone molesting a child when he personally was not being molested and was not under trance. He and another boy were hiding in a closet and no one realized they were there. Paul and Alisha Owens went to jail rather than recant his previous testimony.
I would suggest for some to read the books, plus read about psychology... specifically behavior modification, classical conditioning, brain research to name a few. That will help sort through these books in a logical fashion. Another thing to do is to check into other operations they mention (many of which are declassified or have been exposed) to see how that reinforces the stories and on what points.
Sometimes Truth is stranger than fiction.
******************************************
Good interview with an ex mind programmer:
A woman who was raised in the Illuminati cult describes a powerful secret organization comprising one per cent of the U.S. population that has infiltrated all social institutions and is covertly preparing a military takeover. Her revelations cast the "war on terror" and "homeland security" in their true light.

"Svali" is the pseudonym of the woman, age 45, who was a mind "programmer" for the cult until 1996. She was the sixth head trainer in the San Diego branch and had 30 trainers reporting to her. She has risked her life to warn humanity of the Illuminati's covert power and agenda.

She describes a sadistic Satanic cult led by the richest and most powerful people in the world. It is largely homosexual and pedophile, practises animal sacrifice and ritual murder. It works "hand in glove" with the CIA and Freemasonry. It is Aryan supremacist (German is spoken at the top) but welcomes Jewish apostates. It controls the world traffic in drugs, guns, pornography and prostitution. It may be the hand behind political assassination, and "terrorism", including Sept. 11, the Maryland sniper and the Bali bomb blast.

It has infiltrated government on a local, state and national level; education and financial institutions; religion and the media. Based in Europe, it plans a "world order" that will make its earlier attempts, Nazism and Communism, look like picnics. One other detail: these people are not happy.

Svali's courageous testimony explains why our children are no longer taught civic values, why they are being habituated to homosexuality and violence, and why our "culture" is descending into nihilism and sexual depravity. It raises the possibility that George W. Bush and his Administration are Illuminists and much of the world "elite" is engaged in a mind-boggling criminal conspiracy.
MP3 file (right click and save)
http://projectcamelot.org/svali.mp3
Looks like another Actor Handler and Monarch victim, of course an aspiring country singer:
"Prepare to shudder, people. A 51-year-old character actor who appeared in "The Green Mile" and had recurring roles on "Lost" (as Horace Goodspeed), "24" and "The X-Files" has gotten hitched to a 16-year-old.
Yep, 16.
E! News reports Doug Hutchison married "aspiring country singer" and "former beauty pageant queen" Courtney Alexis Stodden on May 20 in Las Vegas (minors can marry in Sin City with the permission of a parent or legal guardian). "
http://movies.msn.com/movies/article.asp...wsignin1.0
Thanks to Lady J out in the multi-verse, here is the full book from Cathy O'Brien "Trans-formation of America"
http://www.bibliotecapleyades.net/sociop...mation.htm
Reagan was in no mood for sex, and it was a relief to be away from Cheney. He took me outside for a walk in his "Secret Garden," where he said he goes to "think and solve the world's problems". We walked down a cement path he referred to as a "Yellow Brick Road". After sitting quietly on a cement bench for awhile, he said,

"If you follow the Yellow Brick Road, it leads right to the Wizard's lair - the Oval Office, How would you like to see where Uncle Ronnie really solves the world's problems?"

I felt like a little girl with her daddy going to see where he works with no real concept of the experience. The guard at the Oval Office door ensured I was returned to my escorts when Reagan was through "sneaking me in" to his office. I was then taken back to Washington Monument where Houston was waiting in the car as though I had never been gone at all.